Find Your Soulmate with These Dating Sites And Apps
In the past few years, there has been a dramatic growth in the number of dating sites and apps available. This increase is largely due to advancements in technology that have made it easier for people to connect with each other online. In addition, this variety also includes many sites and apps that target specific groups of people such as gay dating (e.g., Grindr), Asian dating (e.g., EastMeetEast) or even senior citizens (OurTime). With so much choice out there, we are dedicated at our review site to helping users find the best app or site for them based on their individual needs and preferences – whether they're looking for something casual or long-term commitment!
Search our reviews
You can use our ajax search form to search in the reviews or click one of the selected buttons below.
Our List of Top Dating Sites and Apps
Finding a good dating site or app can be quite challenging with so many options available. With different sites and apps offering various features, it can be difficult to decide which one is best for you. Additionally, there are some that require monthly fees while others offer free services – this makes it even more confusing when trying to determine the right choice. Furthermore, users should always research each platform thoroughly before signing up in order to ensure they're getting the most out of their experience without compromising on safety and security measures. Ultimately, taking your time researching all of your options will help you find the perfect fit for what you're looking for!
Tantan is a social and dating app that allows users to connect with each other based on mutual interests.

Fotostrana is a Russian social networking website that allows users to connect with friends, play games and share photos.

LatinAmericanCupid is an online dating site that helps Latin American singles find their perfect match.

Parship is an online dating service that helps users find compatible partners for long-term relationships.

Waplog is a social networking platform that helps users meet new people and chat with friends.

Jeevansathi is an online matrimonial platform that helps people find their perfect life partner.

Affiny is an online dating service that uses a sophisticated matchmaking algorithm to help users find compatible partners.

DominicanCupid is an online dating platform that helps connect Dominican singles with their perfect match.

Shaadi.com is an online matrimonial service that helps people find suitable matches for marriage.
Our Evaluation Process
Below are the criteria we use for evaluating dating sites and apps:
• User experience – We evaluate how easy it is to navigate a site or app, as well as any features that make it stand out from other similar platforms. This includes things like user-friendly design, intuitive search functions, clear communication tools (e.g., chat), and helpful customer service options.
• Security & safety – Our team looks into the measures taken by each platform to protect its users' data and ensure their privacy remains intact while using online services of this kind. We also review whether there are verification processes in place so that members can be sure they're talking with real people on these websites/apps instead of bots or scammers trying to take advantage of them financially or otherwise.
• Value for money – To determine if a particular website/app offers good value for money, our reviewers look at factors such as pricing structure (including subscription fees) compared with what you get in return; e.g., number of profiles available within your area etc.. They also consider special promotions offered by some providers which may help reduce costs over time when signing up for longer periods upfront rather than paying month-by-month subscriptions every single time renewal comes around again .
• Quality & quantity – The quality versus quantity debate has been going on since forever! In order to assess both aspects here at our review website we carefully examine different parameters including profile completeness levels across all genders represented on each respective platform plus activity rates among existing members who have already signed up previously too amongst many others .
• Diversity & inclusion – Last but not least one very important factor worth considering is diversity & inclusion , meaning having an equal representation across gender identities , sexual orientations , ethnicities backgrounds cultures religions ages etc…We believe this should always be encouraged no matter where you go online nowadays !
And Here Is Our List!
We are confident that we can help you find the perfect dating site or app to suit your needs!
Tantan
Tantan is a social dating app that helps people connect with others in their local area. It's great for meeting new friends, finding potential partners, and even networking opportunities. With its intuitive user interface and powerful matching algorithms, Tantan makes it easy to find the perfect match or connection quickly. The app also provides users with helpful features such as video chat, messaging capabilities and an extensive profile section where you can share your interests and hobbies. Whether you're looking for casual hookups or something more serious like long-term relationships – Tantan has got you covered! Its advanced search filters allow users to narrow down results based on age range, location distance preference etc., so they can easily locate someone who meets their criteria perfectly without wasting time browsing through irrelevant profiles . Finally ,the built-in safety measures ensure all conversations are secure from prying eyes making sure everyone feels safe while using the platform .
Pros list
1.Easy to use: Tantan is a simple and intuitive app that makes it easy for users to quickly create an account, set up their profile, start swiping and chatting with potential matches.
2. Large user base: With over 100 million registered users worldwide, you're sure to find someone who interests you on the platform.
3. Safety features: The app has built-in safety measures such as real-time location tracking which helps keep its members safe from harm or any kind of abuse while using the service online
4. Fun way of meeting people: Unlike traditional dating sites where conversations can be quite dull due to lack of face-to-face interaction, Tantan offers an exciting way for singles around the world connect in real time through chat rooms and live video calls
Cons list
1.Privacy Issues: Tantan does not have a privacy policy, and users may be exposed to unwanted messages or contact from other users.
2. Security Concerns: There is no verification process for user accounts on Tantan, so it can be difficult to verify the identity of another user before engaging in conversation with them.
3. Fake Profiles: Since there is no verification process for new accounts, it's possible that some profiles are fake or created by scammers trying to take advantage of unsuspecting people looking for love online.
4. Limited Functionality: The features available on Tantan are limited compared to other dating apps like Tinder and Bumble which offer more options such as swiping left/right and profile customization tools
Fotostrana
Fotostrana is a Russian social network that has been around since 2007. It's great for connecting with people from all over the world, whether you're looking to make new friends or find love. With its easy-to-use interface and powerful search engine, Fotostrana makes it simple to find likeminded individuals who share your interests and passions. The platform also offers various games such as quizzes and puzzles which can help break the ice when meeting someone new online! Additionally, users have access to forums where they can discuss topics of interest in an open environment without fear of judgement or ridicule – making it perfect for those seeking meaningful conversations about life experiences. Whether you're interested in casual hookups or long term relationships, Fotostrana provides a safe space for everyone regardless of age or gender identity – so there's something here for everyone!
Pros list
1.Easy to use: Fotostrana is a user-friendly platform that makes it easy for users of all levels to get started quickly.
2. Comprehensive features: Fotostrana offers a wide range of features, from photo editing and sharing tools to analytics and insights into your audience's behavior.
3. Connect with other users: With its social media integration, you can easily connect with other photographers or brands on the platform and share ideas or collaborate on projects together.
4 .Affordable pricing plans :Fotostrana has several different pricing plans available so you can choose one that fits within your budget while still getting access to all the necessary features needed for professional photography work
Cons list
1.The app is only available in Russian, so users who don't speak the language may have difficulty navigating and understanding it.
2. It can be difficult to find friends on Fotostrana as there are no search functions or friend recommendations like other social media apps offer.
3. Some of the features require payment, which could be an issue for those with a limited budget or those not wanting to spend money on a social media app.
4. There are reports that some accounts have been hacked due to security vulnerabilities within the platform, making user data potentially vulnerable if they use this service
LatinAmericanCupid
LatinAmericanCupid is an online dating platform that connects Latin American singles with other like-minded individuals from around the world. It offers a safe and secure environment for members to connect, chat, flirt and build relationships. The website has a large user base of over 3 million people who are looking for friendship, casual dates or long-term commitment. With its easy sign up process you can quickly create your profile and start browsing through thousands of profiles available on the site in search of potential matches. LatinAmericanCupid also provides advanced features such as instant messaging capabilities which allow users to communicate easily without having to wait for replies via email or text message notifications; video chat options so that members can get better acquainted before deciding if they want to meet face-to-face; private messages between two parties where personal information remains confidential; detailed personality tests designed by psychologists so that compatible matches may be found more efficiently based on individual interests and preferences; compatibility ratings showing how well two people match each other's personalities according their answers during registration process ; translation services allowing non Spanish speakers access all parts of the website including customer service support . All these features make it ideal place not only those seeking serious commitments but also those just wanting some fun flirting experience with no strings attached!
Pros list
1.Access to a large pool of Latin American singles from all over the world.
2. Advanced search features that allow you to narrow down your matches based on criteria such as age, location, interests and more.
3. Comprehensive profile information including photos and videos for each user so you can get an accurate idea of who they are before deciding if they're right for you or not.
4. An easy-to-use interface with intuitive navigation making it simple to find what you need quickly without any hassle or confusion
Cons list
1.It is not available in all countries, so some users may be excluded from using the service.
2. The website does not have a mobile app, making it difficult to access on-the-go or when away from home.
3. Some of the features are only accessible for paid memberships which can be expensive for some people
4. There is no way to verify user identities and this could lead to potential safety issues with online dating
Parship
Parship is a dating platform designed to help singles find meaningful relationships. It offers an in-depth personality test that matches users with compatible partners, allowing them to quickly and easily connect with people who share similar interests and values. Parship also provides its members access to expert relationship advice from professionals, as well as regular events where they can meet other like-minded individuals face-to-face. With the combination of online tools and offline experiences, Parship makes it easy for anyone looking for love or companionship – whether short term or long term – to find someone special. The site's unique algorithm ensures compatibility between potential couples by taking into account their individual personalities; creating strong connections based on shared goals, beliefs and aspirations rather than superficial attraction alone. Whether you are seeking casual dates or something more serious such as marriage material – Parships' matchmaking system will make sure you get connected with your ideal partner!
Pros list
1.Comprehensive Personality Test: Parship offers a comprehensive personality test that helps to match users with compatible partners.
2. High Success Rate: With over 10 million members, Parship has one of the highest success rates in online dating sites due to its scientific approach and matching algorithm.
3. Easy-to-Use Interface: The website is easy to use and navigate, making it simple for anyone who wants to find their perfect partner quickly and easily without any hassle or confusion
4. Secure & Discreet Service: All user data is kept secure on the site as well as being discreetly handled by customer service staff so you can be sure your information will remain private at all times
Cons list
1.Parship is a paid service, so users must pay to use the platform.
2. It can be difficult for some people to find compatible matches due to its detailed questionnaire and matching system.
3. There are limited features available on the free version of Parship, which may limit user experience if they don't upgrade their account or purchase additional services/features from them.
4. The site does not have an app available yet, so it can only be accessed through web browsers on desktop computers or mobile devices
Waplog
Waplog is a social networking platform that helps users make meaningful connections with people around the world. It offers an easy-to-use interface, enabling users to find and chat with new friends in their area or across the globe. With its advanced search feature, Waplog allows you to narrow down your searches by age range, gender preference and location so you can easily connect with likeminded individuals who share similar interests as yours. The app also provides great features such as private messaging capabilities for more intimate conversations between two parties without having them revealed publicly on the network itself; allowing for greater privacy when connecting online. Furthermore, it has a built-in matchmaking system which uses algorithms to suggest potential matches based on user preferences – perfect if you're looking for something serious! Whether it's making new friends from different cultures or finding someone special near home – Waplog makes meeting people easier than ever before!
Pros list
1.Easy to use: Waplog is designed with a simple and intuitive user interface, making it easy for users of all ages to join the community.
2. Connects you with people from around the world: With millions of active members in over 30 countries, Waplog helps you connect with new friends and potential partners from different parts of the globe.
3. Offers multiple ways to communicate: Whether through private messages or public chat rooms, there are plenty of options available on Waplog for users who want more than just text-based conversations online.
4. Comprehensive profile customization tools: Users can customize their profiles by adding photos, videos and other personal information that they feel comfortable sharing publicly or privately within their network
Cons list
1.Waplog is a free app, but users must pay for premium features such as unlimited messaging and photo sharing.
2. The user interface of the app can be confusing to navigate at times due to its many features and options.
3. Some users have reported that their accounts were hacked or deleted without warning by Waplog's moderators for violating terms of service rules or other unknown reasons
4. There are reports from some users about receiving inappropriate messages from other members which may not always be monitored by the moderation team
Jeevansathi
Jeevansathi is an online matchmaking platform that connects people from all over India. It offers a comprehensive suite of services, ranging from matrimonial profiles to personalized match-making algorithms. With its user friendly interface and intuitive design, Jeevansathi makes it easy for users to find the perfect partner with whom they can build meaningful relationships. Whether you are looking for casual hookups or long term commitments, Jeevansathi has something for everyone! Its vast database includes thousands of verified profiles so that users can be sure they're interacting with genuine individuals who share similar interests and values as them. Additionally, its advanced search filters allow members to narrow down their choices according to specific criteria such as age range, religion/caste preferences etc., making it easier than ever before to find your soulmate on this website!
Pros list
1.Easy to use: Jeevansathi is designed with a user-friendly interface, making it easy for users to navigate and find the perfect match.
2. Large database of profiles: With millions of registered members, you can be sure that there will always be someone who meets your criteria on Jeevansathi.
3. Comprehensive search options: The website offers various filters like age range, religion/caste preference etc., so you can narrow down your choices quickly and easily.
4 .Verified Profiles : All the profiles are verified by their team which makes it easier for one to trust them while searching for life partner
Cons list
1.Limited Database: Jeevansathi has a limited database of users and the chances of finding an ideal match are quite low.
2. Unverified Profiles: Many profiles on this website have not been verified, so there is no way to know if they are genuine or fake.
3. Expensive Subscription Plans: The subscription plans offered by Jeevansathi can be expensive for some people as it starts from Rs 3000 per month which may be unaffordable for many people who want to use their services but cannot afford them due to financial constraints .
4. Lack Of Privacy & Security Features :Jeevansathi does not provide any privacy or security features like two-factor authentication, data encryption etc., making it vulnerable to cyber attacks and misuse of user information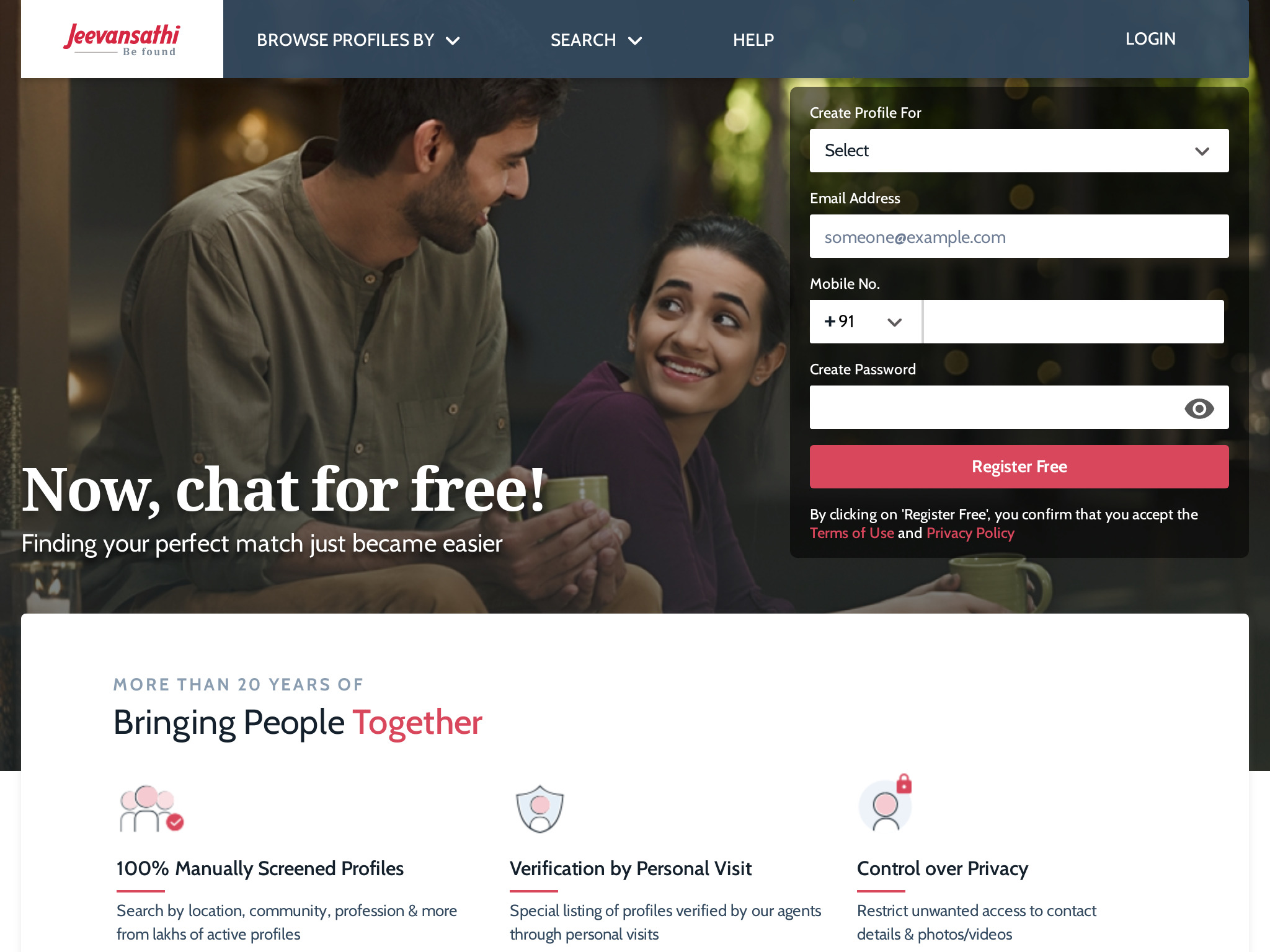 1. Wide variety of profiles
2. Comprehensive matchmaking system
3. Free to use for basic features
Expensive membership fees
Limited access to features without a paid subscription
Potential for scammers and fake profiles
Lack of customer service support
Unclear matching algorithm
Affiny
Affiny is a modern dating platform designed to help singles find meaningful connections. It uses an advanced matching algorithm that takes into account your personality traits, interests and lifestyle preferences to match you with compatible partners. With Affiny, users can easily browse through profiles of potential matches in their area or even across the globe. The site also offers detailed profile sections so members can get a better understanding of each other before taking things further. Whether it's for casual hookups or long-term relationships, Affiny has something for everyone! Its intuitive design makes navigating the website simple and enjoyable while its comprehensive safety features ensure all members are kept safe from online predators and scammers alike. From video chats to virtual dates, there's no shortage of ways people on Affiny can connect with one another – making it perfect for anyone looking for love!
Pros list
1. Easy to Use: Affiny is designed with simplicity in mind, making it easy for users of all ages and backgrounds to use.
2. Comprehensive Matching System: The matchmaking system takes into account a variety of factors such as lifestyle, values, interests and personality traits when suggesting potential matches.
3. Secure Platform: All personal data is encrypted using the latest security protocols ensuring that user information remains safe from hackers or other malicious actors online.
4. Wide Range of Features : In addition to its powerful matching algorithm, Affiny also offers an array of features including private messaging, icebreakers and virtual gifts which can help facilitate conversations between members
Cons list
1. Limited user base: Affiny is still relatively new and has a limited user base compared to other dating sites. This means that you may not have as many potential matches available on the site, which could limit your chances of finding someone special.
2. Expensive subscription plans: The cost of subscribing to Affiny can be quite expensive depending on what plan you choose and how long it lasts for, making it unaffordable for some people who are looking for love online.
3. No free trial period: Unlike other dating sites, there is no free trial period offered by Affiny so users must commit to paying upfront in order to use the service without knowing if they will find success or not with their search results
4. Limited features :Affinity does offer basic features such as profile creation and messaging but lacks more advanced options like video chat or even virtual dates
Flirt4free
Flirt4free is an online dating platform that provides users with a safe and secure environment to meet new people. It offers features such as video chat, live streaming, virtual gifts, profile matching and more. With its easy-to-use interface and intuitive design, Flirt4free makes it simple for singles of all ages to find potential partners who share similar interests or lifestyles. The site also allows members to customize their profiles in order to better express themselves while searching for compatible matches. Whether you're looking for casual hookups or long term relationships – Flirt4Free has something special waiting just around the corner! Its user friendly tools make it easy to search through thousands of available singles based on location preferences or personal traits like age range, gender identity/expression preference etc., making sure you get the best possible match out there! Additionally this website can be used by couples seeking threesomes & group sex encounters too – so no matter what your relationship status may be; flirt 4 free will have something perfect tailored just for you!
Pros list
1.Easy to use interface: Flirt4free has a user-friendly and intuitive design that makes it easy for users of all levels to navigate the site.
2. Variety of payment options: Flirt4free offers several different payment methods, including credit cards, PayPal, and cryptocurrency payments.
3. High quality video streaming: The platform provides high definition video streaming with minimal buffering or lag time so you can enjoy uninterrupted viewing experiences every time you log in.
4 .Discounts & Promotions :Flirt 4 Free often runs promotions offering discounts on credits packages as well as other rewards such as free gifts from models
Cons list
1.Expensive – Flirt4free can be quite expensive, especially when compared to other adult webcam sites.
2. Limited Models – There are not as many models available on Flirt4free as there are on some of the larger cam sites like Chaturbate or MyFreeCams.
3. No Free Chat Option – Unlike most other cam sites, there is no free chat option with Flirt4free which means you have to pay for every minute that you spend in a private show or group session with one of their models.
4. Unreliable Customer Support – The customer support provided by Flirt 4 Free has been known to be unreliable and slow at times which can make it difficult if something goes wrong during your experience using the site
DominicanCupid
DominicanCupid is a leading online dating platform designed to help singles from the Dominican Republic and around the world find their perfect match. It has been helping people connect since 2006, offering an easy-to-use interface that makes it simple for users to search through hundreds of profiles in order to find someone who meets their needs. With its advanced matching algorithm, DominicanCupid helps members quickly narrow down potential matches based on age, location and interests. The site also offers helpful features such as chat rooms where you can talk with other members or even video chat if desired. Additionally, there are several success stories featured on the website which highlight how successful couples have found love using this service! Whether you're looking for casual hookups or long term relationships – DominicanCupid is great choice because it provides access to a large pool of quality singles who share similar values and beliefs as yourself!
Pros list
1.Easy to use interface: DominicanCupid offers a user-friendly and intuitive platform that makes it easy for users to navigate the website.
2. High quality profiles: The site has high quality profile pictures, detailed information about each member, and comprehensive search options which make finding compatible matches easier than ever before.
3. Secure environment: DominicanCupid takes security seriously by verifying all members' identities with an email address or phone number so you can be sure your data is safe on the site at all times
4. Comprehensive customer service team available 24/7: If you have any questions or concerns while using DominicanCupid, their customer service team is always ready to help out via live chat support as well as email inquiries in both English and Spanish languages
Cons list
1.The website is only available in Spanish, so it can be difficult for non-Spanish speakers to navigate.
2. It does not have a mobile app, making it inconvenient for users who prefer to use their phones or tablets instead of computers.
3. Some profiles are incomplete and do not provide enough information about the user's interests and background which makes finding potential matches more challenging than other dating sites that offer more detailed profile options such as hobbies and lifestyle choices
4. There is no way to verify if the person you are talking with on DominicanCupid is actually real since there isn't any form of verification process like some other websites offer
Shaadi.com
Shaadi.com is an online matrimonial service that helps individuals find their perfect match for marriage. It has a vast database of potential brides and grooms from all over the world, allowing users to easily search through profiles according to religion, caste, profession and more. The website also offers helpful advice on how to make your profile stand out as well as tips on finding the right partner for you based on compatibility factors such as age range, interests and lifestyle choices. Shaadi is great for those looking not only long-term relationships but even short-term hookups or friendships with likeminded people who share similar values in life; it's ideal if you are seeking someone special regardless of whether it be casual dating or serious commitment! Additionally its secure messaging system allows two members interested in each other's profiles to communicate without having their contact details revealed until they both feel comfortable enough doing so – making sure everyone remains safe while searching for love!
Pros list
1.Shaadi.com offers a wide range of options for potential matches, including religion, caste and language preferences.
2. It has an extensive database with millions of profiles to choose from which increases the chances of finding your perfect match quickly and easily.
3. The website is user-friendly and provides various tools such as horoscope matching that can help you narrow down your search criteria even further
4 .It also offers premium membership packages that provide additional features like profile highlighting, access to verified phone numbers etc., making it easier for users to find their ideal partner faster
Cons list
1.There is a fee for using the site, which may be prohibitively expensive for some users.
2. The website does not offer any kind of background checks on potential matches so there could be an element of risk involved in meeting someone through Shaadi.com
3. Some people have reported that they have received spam messages from other members or even fake profiles trying to scam them out of money
4. It can take time and effort to find suitable matches as the pool is quite large
FAQ
What are the benefits of using a dating site or app?
Dating sites and apps offer many advantages, including convenience, safety, and access to a larger pool of potential partners. With online dating you can connect with people from all over the world in just minutes. You don't have to worry about being rejected face-to-face because it is easier for someone to turn down your advances through an online platform than it would be if they were standing right in front of you. Additionally, most reputable sites will take measures such as verifying user profiles so that users feel more secure when interacting with others on their platforms. Finally, by joining a popular dating site or app you can increase your chances of finding compatible matches since there are usually thousands (or even millions) other singles looking for love too!
How do I know which type of website/app is best suited for me?
The answer depends largely on what kind of relationship(s) you're looking for – casual hookups vs something more serious – as well as factors like age range preferences and location settings etc. If this sounds overwhelming then consider taking advantage free trials offered by some websites/apps so that way get an idea before committing financially; also read reviews from other users who may have already tried out different services available – this should give better insight into which one might suit best according to needs & wants. Ultimately though, only person really knows what works them – trial & error often key here!